"If anyone is in Christ, there is a new creation:   
everything old has passed away; see, everything has become new!"
– II Corinthians 5:11-21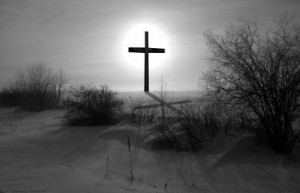 "There is a part of the soul that stirs at night, in the dark and soundless times of day, when our defenses are down and our daylight distractions no longer serve to protect us from ourselves.  It's then, in the still of life, when we least expect it, that questions emerge from the damp murkiness of our inner underworld…  These questions do not call for the discovery of data; they call for the contemplation of possibility" ("Between the Dark and the Daylight, by Joan Chittister;
Introduction, pg 10).
I can honestly say that this 2016 season of Lent has continued to unfold in marvelous and unexpected ways – such as the discovery of Chittister's book filled with probing queries and illuminating insights.  There are times in our lives when we sense ourselves moving, sometimes inching rather than rushing, toward some needed truth or lived reality.  And by God's grace, this holy period of prayerful reflection and contemplation continues to serve as just such a time for me.  For in the "darkness" of the utter busyness of my daily life, with all of its pressing demands, contradictions, and grand blessings I have discovered (and rediscovered) the Light who enables us all to glimpse and hope for what can and yet shall be.  I am profoundly grateful for my Savior's kept promises, which not only challenge but also renew our confidence in His faithful presence and power both now and in every day to come.
On this coming weekend we will celebrate and contemplate the marvel and meaning of PALM/PASSION Sunday, when Jesus began the final days of His earthly life.  As Jesus entered Jerusalem for the final time, he was resoundingly heralded as the King, as the long-promised Messiah who would surely lead the Jews in overthrowing their Roman oppressors and knowing freedom, at last.  But, as we know, all too quickly, the shouts of welcome and jubilation soured into outcries for Jesus' crucifixion!  How often each of us suffers the same; good times have become hard and dark times…what we thought would be quickly withers and fades.  What does our Savior make possible for us in such times?  How do we live in such darkness?
Join us in the coming Palm/Passion Sunday worship!  And join us again on MAUNDY THURSDAY, March 24th at 7:00 p.m., on GOOD FRIDAY, March 25th at 12 Noon and on EASTER SUNDAY, March 27th (7 a.m., 9:00 a.m. and 10:30 a.m.).   In addition to other special highlights in the service, on Easter Sunday, at 10:30 a.m., we will welcome New Members into this faith community.  Invite and/or bring someone to any or all of these holy worships, as we open ourselves to the blessings the Spirit of the Lord has already prepared to grant.  See you on Sunday!  May it be so…
+++
LENTEN SERMON SERIES, "THE FREEDOM OF THE DISCIPLINES"…invited us to explore and practice only a few of the many spiritual disciplines, while also inviting us to explore and practice others.  The spiritual disciplines help us to draw closer to Christ and to experience a strengthening of our Christian faith.  I'll be introducing more such disciplines in the coming weeks.  May we embrace them as the blessings they are meant to be.
THE PASTOR'S BIBLE STUDY CLASS…in which we are continuing our study of Adam Hamilton's "John: The Gospel of Light and Life" remains a blessing!  While the other Gospels – Matthew, Mark and Luke – tend to focus on the humanity of Jesus, the Gospel of John focuses more on Jesus' divinity.  John wrote to proclaim and remind us that Jesus was, indeed, not only God in flesh but also the Holy Spirit, who indwells all who choose to know and walk with Him as Savior.  It is in John's Gospel where we find a persistent unveiling of the reality of the Holy Trinity – God the Father, God the Son, God the Holy Spirit.  I encourage each of you to read John's Gospel in its entirety.  It's an inspiring and enlightening gift!
2016 CONFIRMATION CLASS…On Sunday, March 6th, youth and their parents interested in participating in this special experience gathered in my office and the needed plans for offering a meaningful Confirmation experience were agreed upon.  The 2016 Confirmation Class will convene in mid-April.  I'm asking for special prayer — prayers that the Spirit will lead and empower these young people and their families as they consider the making of the most important decision for their faith lives.  (It's not too late to join us.  Youth in grades 7th through 12th are still invited to participate.  Please contact Pastor Colleen if interested.)
+++