"Truly I tell you, just as you did it to one of the least of these who are members of My family, you did it to Me."
(Matthew 25:45)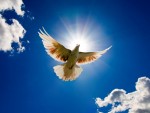 I have long loved a story told, now more than 500 years ago, by Francis of Assisi about "the first day of the rest of his life" – about the day when his heart and vision were transformed by the Spirit of Christ.  Francis spoke of being a nominal Christian, one who knew about Christ, but to whom the Spirit of Christ as actually a stranger.  On the most important day of his life, when forced to interact with a leper, the touch resulted in the instant healing of the leper and in an instant change within Francis' heart and spirit.  And from that day forward, Francis of Assisi felt called to seek out and discover the Christ in everyone…no matter how broken or "insignificant" they appeared to be.
I was reminded of this wondrous telling while pondering the rollercoaster-like journey of the 2015 year and anticipating the year to come.  I have long been in the habit of seeking God's peace and joy and needed vision when confronted with any new beginning. Both as an individual Christian and as a pastor in Christ's Family – as one called to love and lead, I have learned the irreplaceable value of always seeking my Lord's provision.  As the 2016 threshold drew closer, I gratefully engaged in the privilege of prayerfully seeking God's vision and grace.  Seeking the Lord's vision and grace is a habit and privilege which our Savior heartily condones!
As the Holy Spirit leads us forward in the ministry of Trinity UMC, mp, an upcoming blessing will be the celebration of Commitment Sunday, on January 10th.  As a faith community known for striving to grow in God's grace and to offer Christ's caring and compassion to persons and families in need, we will celebrate the promised commitment of our 2016 Lay Leadership Team, during our 10:30 a.m. worship service.  We will also receive your completed 2016 financial Commitment Cards during this special service.  We pray you will join us as we worship the Lord with our commitment to His ongoing ministry!  And don't forget to invite/bring someone to church with you.
As we embrace God's vision of newness and growth for the future, please choose to be a faithful steward of God's graciousness in and for your life.  As we move forward into this new year, we will continue to make certain and specific appeals for your involvement in the ministry of your church; please choose to faithfully give of your time, talents, finances, and other bestowed resources…to be God's blessing within and through this place.  Pray for and be kind to those on our 2016 Leadership Team.  Pray for and support the ministry of this church.  And join me in rejoicing in and embracing God's vision, as it continues to unfold.  May it be so for you and for me.  Amen!
Rev. Colleen M. Norman