Trinity Endowment for Mission and Ministry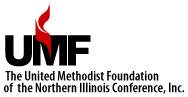 A Trinity Endowment Fund has been recently established.  This fund will receive gifts, bequests, and other funds from Trinity members and friends.  These monies will become the untouched principal in memory or honor of the donor or someone designated by the donor.
The principal will be held perpetually, with celebrations of those honored or memorialized annually.  A portion of the interest earned by the fund will be returned to help the fund grow.  Another portion will be available to support mission and ministry of Trinity in all of its forms, ranging from building, to programs, to outreach.
The fund will be invested by the United Methodist Foundation, and administered by Trinity.
If you wish to have a continuing impact on the future of Trinity, consider designating a portion of your estate, providing a gift, or other funds, to the Trinity Endowment for Mission and Ministry. Thank you.