It cost Jesus his life."
—Daily Hope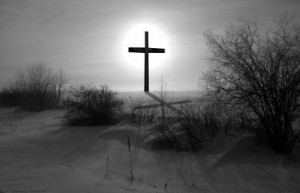 Tis the season…to REFLECT, RESPOND, AND REJOICE!  While the rest of the world moves through Lent and anticipates Easter simply as spring's arrival – complete with bunnies and baskets of flowers – Christians reflect upon, respond to and rejoice in a different kind of arrival.  On Easter Sunday, we celebrate the miraculous resurrection of Jesus the Christ, the Lamb of God.  That wondrous day of Jesus' resurrection from death — now more than two thousand years ago – fulfilled an ancient prophecy:  the Way made to personally knowing and living with and for God, through Christ's Holy Spirit.
The Bible tells us, in John 1:17, "For the law was given through Moses, but God's unfailing love and faithfulness came through Jesus Christ" (NLT, second edition).  It is God's grace and might, and unfailing love that has made our salvation possible!  We cannot receive, experience, and share our Savior's grace through the practice of religion, ritual, or our human will.  We can only receive the grace of real and transforming life through our trust and friendship with the Spirit of Christ Jesus.   And here, at Trinity UMC, we are living this 2016 season of Lent by reflecting upon and responding to the grace and call of Christ's Holy Spirit, and rejoicing in the wondrous blessings of such faithfulness.
God's grace changes our thinking and how we choose to live our lives and serve God's will.  My sermon series for this Lenten season, "THE FREEDOM OF THE DISCIPLINES"  explores how our practice of grounding spiritual Disciplines allows the inward transformation, by the Holy Spirit, of everyone striving to be a disciple of Jesus the Christ in thought, intention, and action.  In the Pastor's Bible Study Class (Sundays, from 9:15 to 10:00 a.m., in Trinity Hall), we are using and being enormously blessed by Adam Hamilton's "JOHN: The Gospel of Light and Life".   Our Trinity Youth, in addition to their continued service at WINGS and PADS, recently partnered with the Night Ministry, by preparing and providing hot soup and sandwiches to some of Chicago's homeless people.  The power of that experience fueled their commitment to continue to engage in this ministry of great compassion and grace!
Our CONFIRMATION INFORMATION SESSION will be held on this Sunday, March 6th, immediately following the 10:30 a.m. worship service, in the Pastor's office.  Youth from the 7th through 12th grade are invited to participate in the Confirmation experience.
Also, during this season of blessing, we have celebrated the wedding of Jack and Jan Verhasselt (Saturday, February 20th), mourned and celebrated the life of longtime member, Trevor Hinchliffe  (Saturday, February 27th), as we now also prepare to mourn and celebrate the life of Christine Mazza-Devany  (Saturday, March 5th, at 11:00 a,m.).   And at the 10:30 a.m. worship service, on Easter Sunday, I will be welcoming persons into church membership.  Other persons interested in uniting with Trinity UMC should schedule a time to meet with me (847-621-9160 or colleennorman8712@comcast.net) as soon as possible.
Because of the present and active Spirit of the Lord, we can follow our Savior in triumphant ways throughout our everyday lives: prayer, fellowship, ministry, and financial giving.  Because of our risen and loving Lord, we too are invited and enabled to live and serve God's blessed will!  May it be so for you and for me.  See you on Sunday!
Rev. Colleen M. Norman, Pastor