November 20 • 4:00 p.m.
Chicago Metropolitan
Brass Ensemble
FALL CONCERT
The Chicago Metropolitan Brass Ensemble is an 11 piece brass choir under the direction of W. Brad Hecker featuring some of Chicagoland's most brilliant brass players. The group is dedicated to sharing our love of music with audiences and celebrating the best of brass music.
December 3
Mount Prospect Community Band
CHRISTMAS CELEBRATION
and Cookie Walk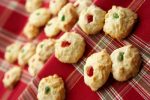 UMW Christmas Cookie Walk
3:00 – 5:30 p.m.
to raise funds for missions
A goodwill offering will be taken to benefit  Journeys from Pads to Hope
December 4
Brass and Choir Concert
Evening of Brass V
Christmas Around the World
December 18
Chicago Trombone Authority
Christmas Holiday Concert
The Chicago Trombone Authority (CTA) is an eclectic
collection of some of the best trombonists from the Chicago area. Their mission is to preserve, promote, and enhance the legacy of the trombone and the music written for it. With performing ensembles varying in size from 4 to 12, the CTA is building a strong following and is now in its 10th year of existence.