God has a lot to say to us. It's really important and really good! 
Who will make time to listen? 
Join us…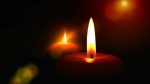 Wednesday evenings before choir at 6:30 p.m. in the Fireside Room.
Tonight we will pray the scriptures using a practice called Lectio Divina ("feasting on the Word")
Thursday evenings at 6:30 p.m. in Trinity Hall (before bell choir)
Sundays at 9:30 a.m. in room 101.
This week: Praying in Color
Take tools with you to encounter God in a new way at home.
Advent blessings!
Jacki