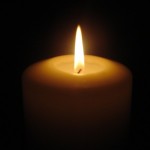 We will hold a Prayer Vigil in the sanctuary during Holy Week. The Vigil will be the 24-hour period between the beginning of the Maundy Thursday Service (7 PM, April 5) and the beginning of the Good Friday Service (7 PM, April 6).
A sign-up sheet is posted on the office hallway bulletin board which divides the 24-hours into 15-minute time slots. We are invited to sign up for one or more (and as many more as you want) to set aside times for prayer. The goal is to have prayer throughout the 24-hour period. Please sign up soon and plan to pray:
1) The building & sanctuary will be open for prayer during Church office hours (7 AM – 3 PM). Please use the Church Office Doors to enter. The Church building entry/exit doors are kept locked. If you do not have a key, we ask that you use the bell (at the church office entrance) and someone will let you in as soon as possible. If you do have a key, please make sure the door is locked when you leave.
If you are unable to come to the Church during that time, please still sign up and pray where you are.
2) More than one person can sign up for the same time slot.