Think Manna Gift Cards
For all of your special Events and Purchases!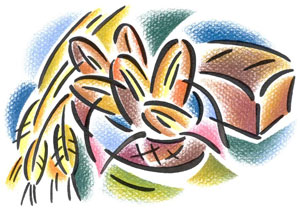 ALL ORDER SCHEDULE:
Orders Due: Sunday, October 5th, November 2nd, December 7th
Delivery Dates: Sunday, October 19th, November 16th, December 21st ORDER FOR THE HOLIDAYS IN EITHER OCTOBER OR NOVEMBER.
PLEASE consider using Manna gift cards for any of your purchases. You can give them as gifts, use them to purchase your gifts, or use them yourself. You can find an order form in the Narthex or online in the Trinity Website at www.trinitymp.org under "Manna".
Manna carries many different cards and denominations that I do not have on our list. If you are interested in a specific vendor, go to Manna's Website at www.mannagroup.net
to find it. Just let me know the vendor, quantity of cards, and denomination you want on our order form.
Trinity members have been purchasing food, gas, or Walmart gift cards to pass onto Pastor Dan or the Outreach Committee for distribution to those in need of food and other essen-tials in our community. These are $25.00 cards with a 3-5% contribution from the vendor to Trinity. There are also $10 local restaurant cards with a 5-15% contribution rate.
You can donate any time of the year, not just for the holidays. What a wonderful way to serve during these hard economic times!!!!
THANK YOU TO ALL OF YOU WHO ARE SO ACTIVELY PARTICIPATING IN THE MONTHLY MANNA.
For the first nine months of 2014, orders totaled $31,698.00. Net profit is $1,371.90. Please email me if you have any questions or need your cards earlier.