"Worship the Lord with gladness,
come into God's presence with singing."
– Ps. 100:2
5:00 p.m. Saturday — UPWARD CALL
Sunday Worship Service 8:10 and 10:30 a.m.
Trinity's music ministry is alive and growing!
CHANCEL CHOIR – CALLING ALL VOCALISTS
I'm looking for more voices (especially TENORS). There is still room for Sopranos, Altos, Tenors and Basses. The Chancel Choir is one of the most powerful, excitable, energetic, diverse, somber at times, loving and prayerful, soulful, rocking, spiritual, caring and fun ministries of our church. The Bible states: "Make a joyful noise unto the Lord." That is what we do!
Perhaps you have been talking it over with your wife or husband about this opportunity to sing to the glory of God – meet us (Ty and Julie) at rehearsal (September 7th at 7:30 pm).
Maybe you are not working on Wednesday evenings nor have another commitment on Wednesday evenings meet me at rehearsal.
Conceivably, you have good tonality, good pitch, and can count up to eight meet me at rehearsal.
Finally, you may possibly enjoy singing with a choir and sought the Lord through prayer about the Chancel Choir ministry – meet me at rehearsal.
Chancel Choir Rehearsal Schedule:
Date: Wednesdays . 7:30 p.m. – 9:00 p.m
Place: Trinity Hall
Ty Mitchell, Director of Music
CHILDREN'S CHOIR REHEARSALS SUNDAYS
Handbells
Trinity Youth Bell Choir: 9:00 – 9:30 AM in the Sanctuary
For students in 3rd through 8th Grades
For students 3rd to 8th grades Have questions or need information? Contact Bell Choir Director, Russ Carroll  @ rcarroll90@msn.com.
Vocal
Shepherds: 9:30 a.m. in Fellowship Hall
For students in 3rd through 8th grades
Cherub: 10:00 a.m. in Fellowship Hall
For children Pre-K through 2nd grades
Have questions or need information? Contact Director, Julie Junkel @ junkel@d83.org.
BELL CHOIR NEWS
Trinity Adult Handbell Choir
We're looking for volunteers this year for permanent and substitute spots. If you're interested please contact Russ Carroll @ rcarroll90@msn.com.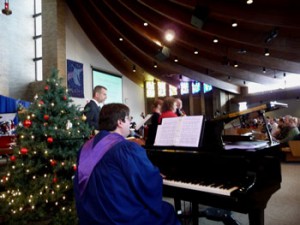 Infinite Journey (Trinity Praise Band) rehearses every Saturday at 4:00 PM,  plays every Saturday evening at the 5:00 PM Contemporary Worship Service, UPWARD CALL, and plays once a month at the 10:30 worship service. We welcome anyone with an interest for today's contemporary music old and new.
Our Woodwind Quartet members are April Patek, Julie Junkel, Judy Thorne, and Bev Moehling. Hopefully, this group will be a regular monthly addition to our worship services.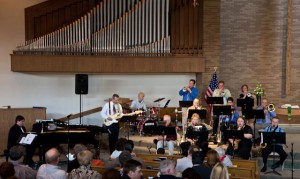 Our Trinity Brass is always a delight to hear, and enhances our worship experience. Members of this fine group are Erin Herman, David Patek, Nancy Reed, and Thomas Weaver. Tom Weaver coordinates this ensemble and arranges many of their hymn accompaniments.
The Trinity Adult Handbell Choir, led by Russ Carroll, shares their wonderful music in the 10:30 worship service about once per month. They rehearse from 7:30 PM to 9:00 PM Thursday evenings.
Trinity's Chancel Choir sings at most 10:30 AM services from September through mid-June. They rehearse Wednesdays at 7:30 PM. New members are always welcome.
Shepherds Choir (3rd to 8th grades) rehearse in the Sanctuary on Sundays from 9:30AM – 9:45 AM.
It's always a joy to have the Cherub Choir (3 year-olds – 2nd grade) with us during worship. Please contact Julie Junkel, director of the Cherub Choir for more information. Cherubs rehearse 9:45 to 9:55 AM Sunday mornings.
In addition to these groups of musicians, Trinity is also blessed with numerous youth and adult instrumentalists and vocalists.
Now Forming: Trinity Youth Band
Contact Julie Junkel @ junkel@d83.org