FAMILY TIME
Live Music, Feed the Body, Feed the Soul
March 8—Apr 12
5:00 Upward Call featuring live music by Infinite Journey
5:45 Feed the Body – pizza / optional potluck
6:00 Feed the Soul
The Wesleyan Way: A Faith that Matters
Baby Steps: Spiritual Development in the First 5 Years – for parents
Children's activities, infant and toddler care
THE WESLEYAN WAY: A Faith that Matters
Starts March 8
Seekers and believers are invited to envision and practice discipleship as a way of life. Christianity from a Wesleyan perspective will be explored using DVD presentations and discus-sions. Participants will be invited to consider a deeper, more thoughtful, more active commitment to Christ.  Optional Student Books are available.  Contact Jacki Bogolia.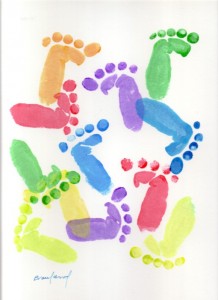 BABY STEPS: Spiritual Development in the First 5 Years
Session 1 starts March 8; Session 2 starts March 29
You are invited to attend a Baby Steps class at Trinity UMC. The goal of Baby Steps is to equip parents and Sunday school leaders with practical tools to help adults engage spiritually with children in their first five years of life. We will spend our time understanding how children develop, discovering tools to help them grow spiritually, and finish with a panel of veteran parents from whom you may get advice on any topic.
Session 1 starts March 8.  The three week class will be repeated in Session 2 starting March 29.   Child care provided. Contact Jacki Bogolia.