(find additional information in the weekly calendar)
Welcome Austin Teegarden, Trinity's new Director of Youth Ministry. Austin will be with us on a part-time basis, and is currently working on his Master of Divinity at Garrett-Evangelical Theological Seminary.  He received his Bachelor of Science degree in Church Vocation at Martin Methodist College in Pulaski, Tennessee.  He has worked with youth in various programs including Youth Works! INC, as a site director and program coordinator for their mission work. A native of Tennessee, he and his wife, Shelby, reside in Evanston. Shelby is in ministry with youth as well, serving on staff at Palatine United Methodist Church. Please be sure to greet Austin warmly!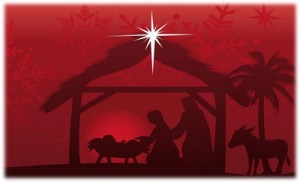 All-ages Christmas Pick-up Pageant in worship Sunday, Dec. 24 at 10:30 am and again at 7pm. Practice in the Education wing following the Children's Message on Sunday, Dec 17. Even if you can't rehearse with us, we will have a costume waiting for you in the Nursery hallway when you arrive for worship Dec. 24. Just follow the other angels, shepherds, sheep, magi and camel through the story. Photos welcome following both services.
YCOS students who are involved in the Pageant are encouraged to come to the Loft when rehearsal is finished Dec. 17. Join us as we welcome Trinity's new Youth Director, Austin Teegarden.
Child care for infants and toddlers is provided in the Nursery Playroom throughout the morning.
Deep Blue Kids Hangout in the Art Room between services on Sundays from 9-10:00 am. All ages welcome.