(find additional information in the weekly calendar)
Join us for Christmas Eve Worship, this evening at Trinity! 
7 p.m. Bells, Choirs, Pageant, Lessons and Carols, Hallelujah Chorus! 
11 p.m. Special Music, Lessons and Carols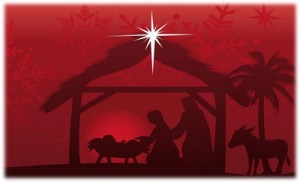 All-ages Christmas Pick-up Pageant – Children in PreK-5th grade, students in 6 -12th and all Adults have two opportunities to be in the Christmas pageant this year! No experience needed. We will perform the All-ages Christmas Pick-up Pageant in worship Sunday, Dec. 24 at 10:30 am and again at 7pm. Even if you can't rehearse with us, we will have a costume waiting for you in the Nursery hallway when you arrive for worship Dec. 24. Just follow the other angels, shepherds, sheep, magi and camel through the story. Photos welcome following both services.
Child care for infants and toddlers is provided in the Nursery Playroom throughout the morning.
Deep Blue Kids Hangout in the Art Room between services on Sundays from 9-10:00 am. All ages welcome.
Pastor's Bible Study will NOT meet on Dec. 24 and 31. We'll resume on January 7.
Thank you to all of those that volunteered to read scripture for Christmas Eve services, 7pm and 11pm. Beth Carroll, Eric Junkel, Lucy Hermann, Russ Carroll, Haley Junkel, Nick Hermann, Wendy Hardin Hermann, Steve Jones, Richard Golding, Corey Horan, Kody Dagel, Tom Weaver, Christine Alleyne, and Austin Teegarden.