Twenty Years of Servicing the Homeless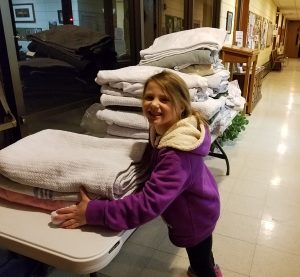 Trinity's 23rd year of serving the homeless through the PADS program began October 6th.   Volunteering at PADS is a very fulfilling experience as you minister to these very needy guests.  Volunteers are needed to staff all shifts, to cleanup, serve meals and many other jobs.  A Sign-up book is in the Narthex.
Journeys from PADS to Hope is the umbrella organization that oversees the eighteen PADS sites in the NW suburban area and also provides professional services such as case management, TB monitoring, meals, showers, clothes closet, etc.  They are currently running low on food, and we are collecting food for them in the little Red Wagon that is in the Narthex.  Their list includes: ready-to-eat meals, snacks, pop-top canned goods, pasta meals, soups and stews, tuna and chicken, Ramen noodles, and dry cereal.
JOURNEYS FROM PADS TO HOPE VOLUNTEERS URGENTLY NEEDED
Volunteers are now urgently needed for the 2nd (7PM to 3AM) and 3rd (3AM to 7AM) shifts.