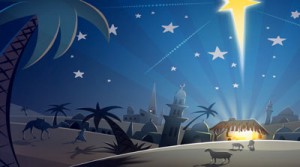 Every Christmas the struggle begins.  The competition between the sacred and the secular.  The Holy Child and Santa Claus.  The Gift and the gifts.  Some years seem more intense than others.  Someone talking to me the other day saw advertisements for the Victoria's Secret Christmas fashion show featuring very young women in very little attire.  She felt overwhelmed by the relentless secular attitude towards the season of "peace on earth."
And yet the struggle has always been there.  I remember hearing of preachers who were strongly critical of the movie "Miracle on 34th Street" when it first came out in 1947 because the emphasis was on Santa Claus.
I can only imagine how they would have responded to the song "Here Comes Santa Claus," which almost makes the jolly old elf a substitute for Jesus.
If this makes it sound like the struggle is peculiarly American, it is not.  It is a human struggle.  Think for a minute about the original Christmas.  How many people saw, knew, and experienced that Christmas?  Some shepherds on the hillside.
A few magi far away.  No stadiums were filled with yelling fans.  No Facebook pages overflowing with hits.  For most folks, it was business as usual.  It is easy for something else to push Christmas aside.  It is even easy for Christmas to push Christmas aside.
In answer to this dilemma, I suggest a gift.  Not a gift that we give to somebody else, although these will occupy our attention in the days ahead.  Instead, a gift we give to God.  The best gift, and one that we can give God every day of this Advent/Christmas season, is our heart.
Put another way–I remember a beautiful Christmas song that asks, "what room will I give Jesus."  The song ends by saying the best room that I can give is my heart.  This is the surest way to the best of the true meaning of Christmas, and it is something that we can do every day.
If you have not done so already, would you consider praying the words of the carol for each day of the remainder of the Advent/Christmas Season.  "Come into my heart, Lord Jesus, there is room in my heart today."
Peace and Joy,
Pastor Dan