Ephesians 1:19-22
"I also pray that you will understand the incredible greatness of God's power
for us who believe him."
(Ephesians 1:19a)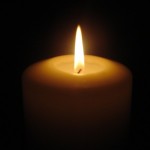 When we are truly honest with ourselves, acknowledging the discomforting uncertainty, the struggle, and the unpredictable messiness of life is unavoidable.  Absolute, easy, and predictable are the realities we, understandably, prefer.  Yet, since not a single day now passes without some measure of messiness – even unrestrained evil – to contend with, we need to be clear about how we will navigate the restless waters of our lives and time.  How do we, as Christ believers, contend with the loss of employment, or health, or marriage?  How do we keep moving ahead when long-cherished hopes and dreams have been crushed?  How do we breathe – much less heal – when someone we love has been brutally maimed or murdered?
Yet again we as individuals, as a nation, as a global community have been assaulted by the insanity of hatred.  In what has been described as "the deadliest mass shooting in U.S. history", a lone gunman stepped into an Orlando nightclub and killed 50 people, while wounding at least 53 more.  Whenever this kind of unspeakable attack on human life happens, we reason that such was perpetrated because of the victim(s)' race, religion, gender, or sexual orientation – just to name a few of the usual "offenses".  But in truth, the real reason for such hatred and vicious violence is the absolute insanity of broken minds, hearts, and spirits!
Our mourning continues either personally or as members of the human community.  A year after another lone gunman entered a church to shoot and kill eight welcoming and praying church members, one who had lost her mother in that evil attack admits that her life (and livelihood) were forever changed.  Her priorities were shifted… altered that bitter loss.  But instead of allowing her grief and pain to control and destroy her, she and also others who suffered the loss of their loved ones on that shameful night are using the experience to help others who know grief, which continues to be a gracious means of their personal healing.
Amidst all the pain and struggle and brokenness throughout our world, we, who know Christ also know that we have a Savior whose faithful Presence, power and grace continues to keep and console us through it all.  May we never ignore the privilege of turning to that Savior, in prayer, in every time of need.  And may we always embrace the graciousness of offering prayer and other forms of love to others in the bondage of pain.  May it be so!
THIS WEEKEND IN WORSHIP
We continue with our sermon series focused on how to discover the blessing of experiencing REAL JOY in these challenging times.  Join us, and invite / bring someone to worship with us!
PASTOR'S BIBLE STUDY
Our study of Jesus' "SERMON ON THE MOUNT" continues to challenge and edify us all.  Join us, and bring your Bible and a friend as we continue this great and blessed adventure.  The class convenes every Sunday, from 9:15 to 10:00 a.m.
A CALL TO PRAYER
The Word of God assures us that the fervent prayers of the "righteous" – of God's people – results in an outpouring of our Lord's great provision and grace.  I invite you to join me a time of prayer every Monday morning, between the hours of 6 and 7 a.m.  
Beginning on Monday, June 20th, pray with me and others in our church family as we lift up special prayers for the families, friends and communities of the victims of warring and violence, everywhere.
Rev. Colleen M. Norman, Senior Pastor