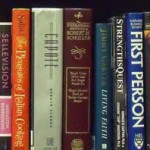 The UMW reading lists have been sent in. Following are what have been accomplished.
*Nine women read 92 books (43 different books) – Pam Black, Janice Farley, Jean Davis, Faye McClellan, Kathy Moulds, Charlotte Sneed McCall, Lois Spillar, Judy Thorne, and Linda Askeland. This is 1 person more than last year. Can we make it 10 or 12 next year? For last several years we have consistently had more readers that any other church in the Elgin District. *Three were in Plan I (5 books read, 1 each in the 5 categories) *Four were in Plan II (10 books read, 2 in each of the categories) *Two were in Plan IV (20 books read, 2 from each category, plus 10 more books from any category) Each plan asks that regu-lar reading of the Response magazine and New World magazine be done. *The most read book (6 wom-en)was Tough Cookies. This book is about Girl Scouts and newer goals it has put in place. The Scouts are trying to prepare girls to be leaders in a new world. Last year the most read book, by 7 women, was The Dressmaker of Khair Khana. The Well Women was next with 5 women having read it. What's So Blessed About Being Poor, Sum It Up, and Finding God In a Bag of Groceries each had 4 women read them. Book Club this next year will be reading Sum It Up (the story of Pat Summit, head women's basketball coach at Kentucky) and King Peggy (next week, the story of an African woman working in the United States becomes king of her village in Africa). I give you the names of the women for 2 reasons. Besides con-gratulations, they would be happy to try to answer any questions you might have.
As I have said before, many of these books are good reads and widen our knowledge of the world we live in. You are welcome to read them even if you don't participate in the reading program per se. Now is the time to start on 2016's list. Books are in the fireside room back and to the right of the big table, clearly marked UMW. Each book should have a card in it that you sign and put in the basket. On returning the book, just put the card back in the book and reshelve it in the correct category. I have a sheet of paper you can use to keep track of the books read. Just ask me for one and feel free to ask me any other question. Men, please, feel free to read the books. UMW has bought them, but anyone can read them. There are also some youth books that can be borrowed.
Right now I am reading a newly acquired book, That Used To Be Us: How America Fell Behind In The World It Invented and How We Can Come Back by Thomas L. Friedman and Michael Mandelbaum. There are some interesting theories on how this can be accomplished.
Good Reading in 2016!
Linda Askeland, Reading Resources for UMW