11-19-2017
---

Families Worship Together Nov. 19, Consecration Sunday. Child care for Infants and children through 2nd grade is provided in the Nursery Playroom throughout the morning.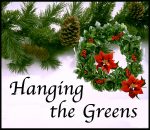 Hanging of the Greens/Make Advent Wreaths Nov. 26, 3:00-4:30 pm. (please note the earlier start time.) Trinity members, guests and friends are invited to this festive all-ages event! Listen to holiday music as we prepare our worship space for Christmas and enjoy hot cocoa and cookies. Pastor Wendy will share with us the meaning of Advent while we make our own family Advent wreaths to take home. A $10 donation for materials is requested.
Readers Theater – several young people have expressed interest in drama and Readers Theater in worship. They are looking for one or two adults to meet with them and guide the preparations. Contact jacki@trinitymp.org
Mount Prospect Community Band – will present a Christmas Concert Saturday, December 9th at 4:00. Let's support the Community Band.
Cake Walk & Craft Sale – UMW will have their annual Cookie Walk and Craft Sale in the Narthex December 9th from 3:00 – 6:00pm. Crafts will still be set up for sale on Sunday December 8th 8:00 am – 12:30 pm. Let's support the UMW. Cookie Bakers Needed!!
Trinity UMC is committed to Hospitality and SafeSanctuary.
All adults, please keep information about yourself and children (0-18 years old) up to date by completing a Student/Child Registration , TUMC-Family Covenant and Authorization for Adult Background Check.

Deep Blue Kids: Experience the Christmas Story through drama! Come to the Education wing at 10:50 a.m. following the Children's Story on Dec. 3, 10, 17 and 24.
Deep Blue Kids Hangout in the Art Room between services on Sundays from 9-10:00 am. All ages welcome.
YCOS students in 6th-12th grade meet Nov. 26 at 10:50 a.m. in Fellowship Hall for Service Project Sunday.
YCOS 2.0 meets Nov. 26 at 11:30 in the Loft. Sign up here to provide lunch. (YCOS: Youth Christian Operating System)
Pastor's Bible Study meets Sundays at 9:15 a.m. in Trinity Hall.
Disciple Fast Track Bible Study for Busy Lives will not meet Thanksgiving Day, Nov. 23. Contact jacki@trinitymp.org for more information.
Current Issues Class to Start in January 2018. In our world today, news happens with instant response and little time to contemplate the issue or the outcome.  A number of our members have expressed the idea of a forum to discuss and explore topics of both interest and concern.
Does an opportunity to exchange ideas and perhaps gain a different perspective on topics in and out of the news with members of our church family in a friendly atmosphere appeal to you?  There is an answer. Plans are underway to revive a longstanding Trinity Ministry, the Contemporary Issues Class in January 2018. In addition to a new name, the Current Issues Class, we will have new class material on a variety of interesting topics. And as it was before, the emphasis of the class is not so much to find an answer as it is to explore the question.   If you like to talk, or if you like to listen, or maybe a bit of both please consider joining us on Sunday mornings beginning in January. Questions? Interested?
Contact Paul Brezinski: rentoe55@yahoo.com or Jacki Bogolia: jacki@trinitymp.org.

PADS & PIZZA – Students in 6th-12 grade will meet Friday, November 10 at 4:30 pm. Pick up at 6:30. Contact dulcemedina123@yahoo.com
SERVICE PROJECT SUNDAY is offered the fourth Sunday of each month at Trinity. Children, youth and adult helpers gather in Fellowship Hall after the Children's Message to work on a variety of projects that address needs in our local community and around the world. If you have a service project idea or know of a specific need, please contact jacki@trinitymp.org. The next Service Project Sunday will be Nov. 26. Adult helpers sign up here.
ChildServ – The Rainbow Covenant emphasis for November is ChildServ. It is an organization that began in 1894 as the Methodist Deaconess Orphanage and later was named the Lake Bluff Home for Children. Today, ChildServ is a highly experienced, multidisciplinary child and family services network reaching children and families facing adversity in four Illinois counties: Cook, DuPage, Kane and Lake. The focus of their community-based programs focus is to improve the lives of vulnerable children and their families, foster parents and other caregivers. ChildServ reaches 3,000 at risk children and families annually. Programs include foster care and adoption, group homes, child care, early childhood education and parenting support, military and veteran family support, and healthy life-style information.
Help make a deployed soldier's Christmas a little brighter! Things they could use: hot chocolate, tea, coffee, trail mix, nuts, snacks, sun flower seeds, popcorn, hand sanitizer, deodorant and body wash for men.
WINGS provides counseling and support for families and victims of domestic violence. To help with groceries, bring rice, toilet paper, snacks, juice boxes, coffee, tea & cereal to the blue WINGS bin in the Narthex. Also requested are seasonal decorations for Halloween, Thanksgiving and Christmas. (WINGS: Women In Need Growing Stronger)
And More…
Trinity Positions Available -There are currently two positions at Trinity that we are searching for qualified individuals.  We are searching for a Director of Youth Ministry to lead young people in 6th -12th grade, Providing for spiritual growth, fellowship and mission service opportunities.  This position is part-time, 15 – 20 hours per week.  We are also searching for an Early Childhood Christian Education Coordinator to work 4-6 hours per week, primarily on Sundays to coordinate ministry, support volunteer leaders, and provide care for infants and children through 2nd grade. Full descriptions for these positions are available in the church office and on the Trinity website.
Update the Church Calendar – Reserve a place to meet. Let others know about new ministry opportunities. Contact Connie or fill in a "Calendar Request" form in the church office.
Altar Flowers are provided by different individuals and groups each week. To sponsor flowers in honor or memory of a loved one, contact Connie in the church office. $20 donations may be placed in an envelope marked "Altar Flowers".
Annual Christmas Wreath Sale: Boy Scout Troop #117 Order forms are now in the Narthex. Orders and payments can be dropped off in the office no later than November 6th. Pick up will be November 26th after the 10:30 am service. Thank you for your continued support of Troop #117.
Free parsley! Are you cooking for Thanksgiving? Come to the church courtyard and pick as much parsley as you want. Take some extra to freeze. There is plenty for everyone. Go out to the courtyard through the door by the office and turn left.