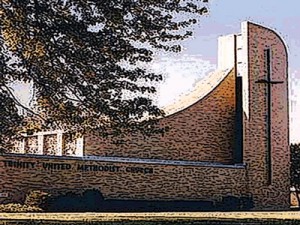 Weekly Worship Services
Sundays ~ 8:10 a.m. and 10:30 a.m.
All are welcome! • Childcare provided
Nursery Open 8:00 am until completion of 10:30 service
Sunday School for all at 9:15 am
Trinity is a vibrant community of faith serving the Northwest Chicagoland Area from Mount Prospect. It is our hope that everyone who enters our doors will find their place and their calling through the many ministries found at Trinity.
Come Worship With Us
Trinity Church offers opportunities for service and spiritual growth for all people. People gather at Trinity for growth through worship, study, and service. Please come and join us as you continue to discover God's call and place for you.
Sunday Schedule
| | |
| --- | --- |
| Nursery Open | 8:00 am |
| Worship – Narthex | 8:10 am |
| Youth Bells – Sanctuary | 9:00 am |
| Bible Study – TH 1 and 2 | 9:15 am |
| Kids Hang Out – Room 202 | 9:15 am |
| Contemporary (Adult) Issues – Fireside Room | 9:15 am |
| CREDO Confirmation – Room 101 | 9:30 am |
| Shepherd Choir – Sanctuary | 9:30 am |
| Cherub Choir – FH | 10:00 am |
| Worship – Sanctuary | 10:30 am |
| PK-K Room 203 | 10:45 am |
| 1st-2nd Grades Room 206 | 10:45 am |
| 3rd-5th Grades Room 204 | 10:45 am |
| YOS – Loft | 10:45 am |
| YCOS – Fireside Room | 10:45 am |
| CREDO Confirmation – Room 101 | 11:45 am |
| Sam Mool Worship – Sanctuary | 12:00 pm |